Samye Ling 2015
School Trip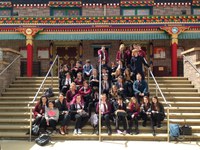 On Tuesday 19th of May 2015, the S3 elective RME classes set off to Samye ling Buddhist monastery. We arrived there at 11:15 and were met by one of the lay Buddhists. A lay Buddhist is a member of the community who is deciding whether or not to become a full time monk.
He took us to the courtyard outside the temple and explained the history of the building. It had been built by Tibetan monks fleeing from Tibet. We had to take our shoes off before going into the temple. Inside the temple we sat on cushions on the floor in rows and he explained to us what was in the temple and what it meant to Buddhism. We then attempted to meditate for five minutes and it was very hard.
It was then time for lunch and after we had finished we were allowed to explore. We went into the peace garden where there were lots of birds, grass and quietness. Then we went back into the temple and listened to a certain type of meditating using trumpets, mantra's, chanting and scents.
The lay monk then gave us a tour of the grounds giving us information on lots of the golden statues symbolising parts of Buddhism. There was a small stone house in which a Buddhist nun lived who had dedicated her life to practising a certain type of meditation four times every day. Then we got to visit the shop before our three hour bus journey home.
Hazel and Aaron.